---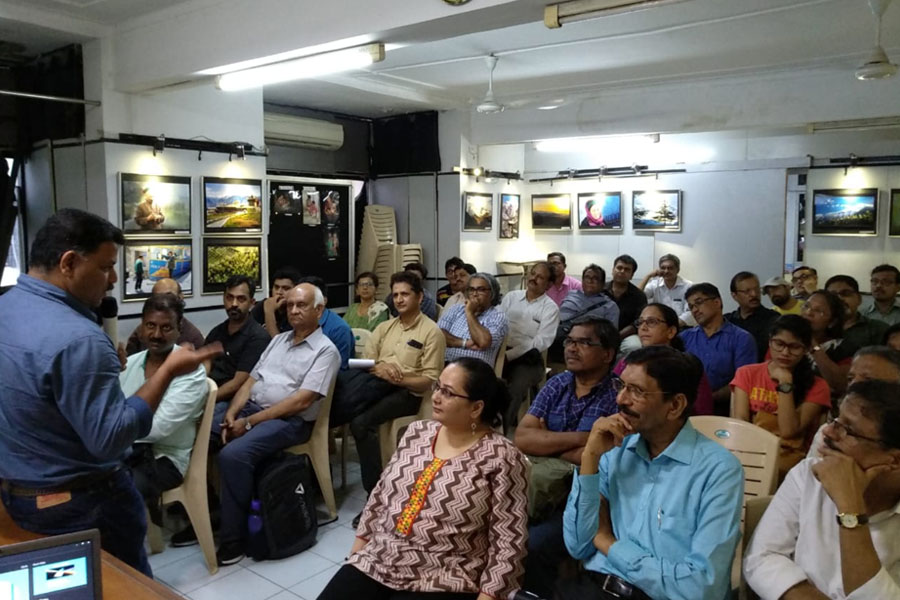 ABOUT THE TRAINER
I am Brendan Dias, a self-taught professional and award photographer and professional trainer for Adobe Camera Raw, Photoshop CC and Lightroom CC with more than 15 years of experience in photography and training. My talks and training programs have been well received by junior and senior photographers especially in the area of image processing. I specialize in Landscape, Travel, Realistic HDR and Wedding photography. I conduct courses in Basic, Intermediate and Advanced Photography and also teach all levels of photo editing using Adobe Camera Raw, Lightroom and Photoshop. I have worked for Fritolay (Asia Pacific – a Pepsi Company) in Singapore and Banco Santander in Switzerland. Having more than 30 years of experience in the area of training, I have the ability to teach complex concepts with simplicity, makes learning a pure joy.
Adobe Photoshop CC Complete Training
Adobe Photoshop CC
Includes Adobe Camera Raw CC.
Create fabulous artwork and images using the latest version of Photoshop, one of the world's most popular image editing software. Master the art of editing images, retouching photos/images, color correction, sharpening, masking, enhancing the mood, photo manipulation techniques and compositing. Increase your efficiency by working with layers, blend modes, masks, smart objects more.
This is a highly customizable course starting at your skill level. It is a one to one training program. It can be scheduled as per your convenience. Learn Photoshop online, at your own home or at our office at Bandra (W), Mumbai. Group training also done at a marginal cost.
Call , Whatsapp +91 9769333474 or Email us now to enquire
The salient features of the course are as follows:
Learn to correct unwanted objects using selections along with cloning and healing and use basic adjustments in Camera Raw and Photoshop to correct hue, tone and saturation. Enhance the light, composition and mood of your portraits. Work in an efficient way using adjustment layers, masks, layers and blend modes. After this module you will be able to confidently process your images to look professional.
Adobe Camera RAW
Adobe Camera Raw, which lets you import and enhance raw images, has been a must-have tool for professional photographers right since it was first released in 2003. Applications that support Adobe Camera Raw include Photoshop, Photoshop Elements, After Effects, and Bridge. Additionally, Adobe Lightroom is built upon the same powerful raw image processing technology that powers Adobe Camera Raw. Call , Whatsapp +91 9769333474 or Email us now to enquire COURSE DETAILS:
Camera RAW workspace

Processing preferences

Sidecar files

Basic RAW Editing

Essential Global corrections

Selective/local adjustments

Improving mood and tone

Dodging & Burning

Presets
Visualization & Photography
"The term visualization refers to the entire emotional-mental process of creating a photograph, and as such, it is one of the most important concepts in photography." — Ansel Adams
Learn about the technique of visualization drawn on from the inspiration of an innumerable number of photographs and learn how to add these to your creative process in order to convey your story more effectively. Visualization is a conscious process of projecting the final photographic image in the mind before taking the first steps in actually photographing the subject. In this course you will be taught how to develop those ways of seeing or visualization thus improving your chances of making great photos. Call , Whatsapp +91 9769333474 or Email us now to enquire COURSE DETAILS:
The technique and craft of Photography

Inspiration

What is a good photograph

Creative visualization

Vision and emotion

Faith and vision

Your unique vision

Materializing your vision

Passion and visualization

Problems with visualization

Paradigm shift

Finding your style
Digital Asset Management
The digital media boom is driven by a combination of trends and innovations pertaining to the capture, process and storage of digital information in the form of images, video and music/sound. Navigating all of this digital media creates challenges for consumers and enterprises alike. This course will teach you how to organize, experience and consume digital media files. Empower yourself to be able to find them, categorize them, and use them when and where they want across multiple devices.
Call , Whatsapp +91 9769333474 or Email us now to enquire
COURSE DETAILS:
The Life of a Photograph

File Types

Pre Capture Considerations

Metadata

EXIF, XMP, and IPTC

Ingestion

Naming Conventions

Storage & Backup Planning

Media Interfaces

Network Attached Storage

Photo Archives

Cloud Storage

Workflow Fine Tuning
(HDR) High Dynamic Range Photography
Learn how to overcome the limitations of the dynamic range of your camera to maximize on the highlights and shadows in your image. This process involves a technique and methodology using multiple exposures and the use of software like Adobe Photoshop CC and others to get the most out of these multiple images.
Call , Whatsapp +91 9769333474 or Email us now to enquire
COURSE DETAILS:
The Exposure triangle

Reading the histogram

Tonal Range

Color Depth

Dynamic range of the camera

JPG vs RAW comparison

Dynamic range scores of Cameras

Potential problems and limitations

HDR best Practices

HDR processing
Exposure & Color
Learn the art of using the craft of photography to calculate and use color and the correct exposure settings to create fabulous images. Understand the effect of color in guiding the eye of the viewer. Use the zone system developed by Ansel Adams to calculate various exposure settings, especially for HDR photography.
Call , Whatsapp +91 9769333474 or Email us now to enquire
COURSE DETAILS:
Understanding color

Color spaces

Color Depth

Hierarchy of color

Contrast Tonality & Color

Psychology  & Color

Mastering Exposure using Zones
Color Theory for Photographers
Color has the power to both take a good image to great, or take that same image, and absolutely ruin it.  Color theory is a technique used primarily in the varying fields of the world of art and design, and plays a major role for creating effective color palettes for those particular fields. Color theory is an important component of delivering a message, or otherwise, just making a combination of colors look great together, simply put.
Call , Whatsapp +91 9769333474 or Email us now to enquire
COURSE DETAILS:
Tonality and Color shades

Color Models

Color Spaces

Color and contrast

Psychological Effects of color